松尾芭蕉
山寺
Sarumino (The Monkey's Raincoat), book in hanshibon format, two volumes Edited by Kyorai and Boncho Genroku 4 (1691) Izutsuya Shobei, publisher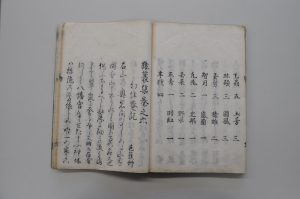 Sarumino (The Monkey's Raincoat), book in hanshibon format, two volumes
Edited by Kyorai and Boncho
Genroku 4 (1691)
Izutsuya Shobei, publisher
This anthology of poems from the Basho school is sometimes referred to as the Kokinshu of haiku poetry after the early Heian anthology of waka poems that is considered one of the most important collections of classical Japanese verse. The first book of this two-volume work is a collection of hokku (17-syllable haiku poems in a 5-7-5 format), while the second book contains renku linked verse (a traditional type of collaborative linked poetry in which participants take turns composing longer 17-syllable (5-7-5) and shorter 14-syllable (7-7) verses) along with Basho's Genjuan no ki ("An Essay on the Unreal Dwelling") and the Kiyu Nikki collection of hokku poems.
The name of this work comes from the opening haiku poem:
hatsushigure / saru mo komino wo / hoshigenari
first winter shower / the monkey also seems to want / a small raincoat*
Basho wrote this poem shortly after his Oku no Hosomichi journey, and it embodies the karumi ("lightness") that he would come to advocate in his poetry, the aesthetic concept of finding beauty in everyday things and expressing it with a light tone. The poems in the first volume of Sarumino are grouped into winter, summer, autumn and spring hokku, which was also a new style of arrangement.
*translation: Makoto Ueda
記事カテゴリ