松尾芭蕉
山寺
Sabishisaya (Such Loneliness), haiku poem and commentary (replica) Matsuo Basho After Jokyo 5 (1688) (Original: Jikomyo-in Temple, Yamagata city)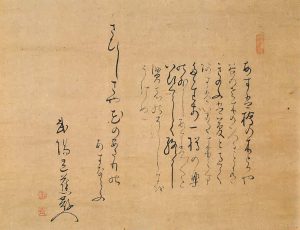 Sabishisaya (Such Loneliness), haiku poem and commentary (replica)
Matsuo Basho
After Jokyo 5 (1688)
(Original: Jikomyo-in Temple, Yamagata city)
sabishisaya / hana no atari no / asunarau
such loneliness – / amidst the blooming flowers, / an old cypress tree
The poem and commentary in this work, written in Basho's own hand, liken the pathos of human life to the asunaro (in Basho's poem, "asunarau") tree and the origins behind its name. The leaves of the asunaro, a tree in the cypress family whose name may literally be translated as "tomorrow (it) will become," resemble those of the more highly prized hinoki cypress, and in folk legend the asunaro was said to have yearned "to tomorrow become the hinoki."
During his travels, Basho visited a mountain where flowers (in classical literature, "flower" generally indicated the cherry blossom) were blooming in thick profusion. Close to these beautiful blossoms grew an aged asunaro tree, whose desire to one day become a hinoki cypress would never be fulfilled, and this poem alludes to the feeling of poignant melancholy brought on by the sight of the lovely cherry blossoms juxtaposed with the old asunaro.
The commentary that accompanies this poem compares the lives we lead to the asunaro tree, evoking the pathos of human life brought about by the folly of placing hope in future dreams which all too often fail to come true.
Basho signs this work using the name "Buyo Basho Sanjin," with "Buyo" meaning "Edo" and "Sanjin" referring to a "person of no importance." This self-deprecating signature suggests that this work was presented to a person of superior social rank.
記事カテゴリ