奥の細道
松尾芭蕉
山寺
Hamaguri no (Dividing Like Clam), haiku poem and painting (replica) Matsuo Basho Genroku 2 (1689)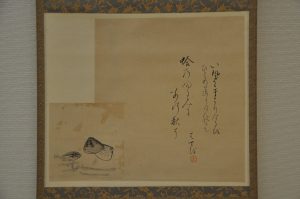 Hamaguri no (Dividing Like Clam), haiku poem and painting (replica)
Matsuo Basho
Genroku 2 (1689)
This is one of the many works of Basho written upon Japanese kaishi paper, which, in addition to being used during the Japanese tea ceremony as a wrapping cloth or to wipe down surfaces, has also been very popular for calligraphic works such as waka and haiku poems.
Basho's Oku no Hosomichi journey ends in the town of Ogaki in Mino Province (present-day Ogaki city, Gifu prefecture). He departs soon afterwards, on October 18 (the 6th day of the 9th lunar month), to witness the sengu ("transfer of the deity") ceremony at the Ise Jingu Shrine. This is when he composes the following haiku, which is accompanied by an ink painting of clams:
hamaguri no / futami ni wakare / yuku aki zo
dividing like clam / and shell, I leave for Futami – / autumn is passing by*
Before the poem, Basho writes, "My friends have come to see me off as I leave for the Ise Jingu Shrine. Basho." This commentary serves to explain the circumstances behind his haiku.
In this poem, "futami" has a double meaning, for it can be taken to mean "lid" and "flesh," likening Basho's departure from his friends to a clamshell dividing in two, while Futami was also the name of a place (the Futami-ura shore) that Basho would pass on his way to Ise. While the third phrase "yuku aki zo" means "autumn is passing by" (for the 9th lunar month would have been late autumn), the first word "yuku" can also be combined with the preceding word "wakare" to form "wakare yuku," or "depart from friends."
*translation: Donald Keene
記事カテゴリ