奥の細道
松尾芭蕉
山寺
Tenyu Hoin Memorial Poem, haiku poem and commentary (replica) Matsuo Basho Genroku 2 (1689) (Original: Dewa Sanzan Shrine)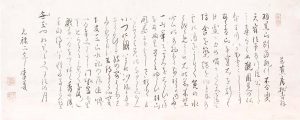 Tenyu Hoin Memorial Poem, haiku poem and commentary (replica)
Matsuo Basho
Genroku 2 (1689)
(Original: Dewa Sanzan Shrine)
sonotamaya / haguro ni kaesu / norinotsuki
returning his soul / to Mount Haguro / the holy moon
In June 1689, Basho visited Mt. Haguro, one of the Dewa Sanzan, or "Three Sacred Mountains of Dewa." While there, he was asked to compose a poem to honor the memory of Tenyu Hoin, a priest of the highest rank credited with the religious revitalization of Mt. Haguro.
Mt. Haguro had long been a prominent center of mountain asceticism, and in 17th-century Edo Japan, Tenyu played an important role as the leader of this movement on Mt. Haguro. He changed the religious affiliation of Mt. Haguro from Shingon to Tendai Buddhism and erected and maintained many buildings and paths; however, he was eventually ousted by political rivals and exiled to Niijima, an island in the Pacific Ocean that is part of the Izu-Shoto island chain (present day Niijima village, Tokyo), where he died in 1674.
In his commentary, Basho honors Tenyu's life and achievements, while also lamenting his condemnation to exile. His haiku poem expresses the sentiment that the holy Buddhist moonlight shining upon Mt. Haguro will one day return the soul of Tenyu Hoin to the mountain.
In the fourth-to-last line of the commentary, Basho changes the character 生 to 徒, and in his poem, he amends the character 無 to 其 (changing the reading from "muno" to "sono") using the misekechi style of correction in which the original characters are still readable. The fact that Basho continued to revise his manuscript even after writing the final copy demonstrates the conscientious and exacting standards he maintained towards his work. By using his formal name "Bashoan Tosei" to sign this work, Basho also manages to convey a sense of sincere regret for the fate that befell Tenyu Hoin.
記事カテゴリ