松尾芭蕉
山寺
Kareobana (Withered Pampas Grass) Book in hanshibon format Edited by Kikaku Genroku 7 (1694) Izutsuya Shobei, publisher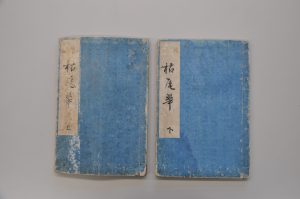 Kareobana (Withered Pampas Grass)
Book in hanshibon format
Edited by Kikaku
Genroku 7 (1694)
Izutsuya Shobei, publisher
After Basho passed away on November 28, 1694 during a visit to Osaka, his disciples put together this collection to honor his memory. The title of the book, Kareobana (Withered Pampas Grass), comes from a haiku which Basho composed when he returned to Edo for the last time in 1691:
tomokakumo / narade ya yuki no / kareobana
somehow, in some way, / it has managed to survive – / pampas grass in the snow*
The pampas grass, which is buried in the snow and yet still manages to live, serves to reminds Basho that he, who has returned to Edo once again, is still alive as well.
The Kareobana collection contains Basho o shuenki, a memorial writing by Kikaku, one of Basho's earliest disciples, as well as renku (linked verse) poems composed at a memorial poetry gathering held at Gichuji Temple in the Omi Province (present-day Shiga prefecture), where Basho is buried. This work is a testament to the great admiration and esteem that Basho was held in even before his death.
*translation: Makoto Ueda
記事カテゴリ