奥の細道
松尾芭蕉
Nasu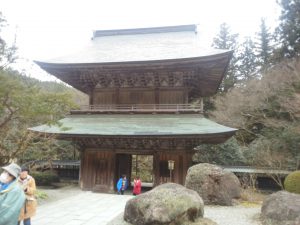 Nasu
After worshipping at the sacred mountain of Nikko, Basho arrived at Kurobane (a location in present-day Otawara city, Tochigi prefecture) in the Nasu region on June 2. Kurobane was a castle town ruled by Lord Ozeki, and Basho stayed at the homes of Kanokobata Toyoaki, a senior vassal of the domain (whose haiku name "Suito" was mistakenly given as "Tosui" in the Oku no Hosomichi travel narrative), and his elder brother Johoji Zusho, a chief retainer of Lord Ozeki's who used the haiku names "Shua" and "Tosetsu." Basho's formal haiku name was "Tosei" (literally "peach green"), and the fact that the "peach" character also appears in Toyoaki's haiku name indicates that Toyoaki had already become Basho's disciple before this time, while it is also surmised that Zusho became a disciple of Basho's during this journey.
During his stay in Kurobane, Basho visited the ancient tomb of Tamamo no Mae and the Kanemaru Hachimangu Nasu Shrine. The subject of a legend used in traditional Japanese drama, Tamamo no Mae was the Japanese name for a golden fox with nine tales which could transform itself into the figure of a beautiful woman. It was said that after causing destruction in India and China, Tamamo no Mae came to Japan, where she became a favored courtesan of the Japanese Emperor. The Kanemaru Hachimangu Shrine also appears in a story concerning the famed Heian-period bowman Nasu no Yoichi. When Nasu no Yoichi was commanded to shoot down a fan on a moving ship over 250 feet away during the Battle of Dan-no-Ura, he was said to have prayed at the Kanemaru Hachimangu Shrine before his successful attempt.
Basho then visited the Unganji Temple, where his Zen teacher Butcho was often known to stay. Butcho also often stayed in the Rinsen-an cottage in Fukagawa, and he enjoyed a friendship with Basho. The influence of the priest Butcho is believed to manifest itself in the Zen nuances which appear in Basho's poems.
After leaving Kurobane, Basho set off to visit the sessho-seki ("killing stone") that Tamamo no Mae was said to have transformed into after being killed.
記事カテゴリ