奥の細道
松尾芭蕉
Ishinomaki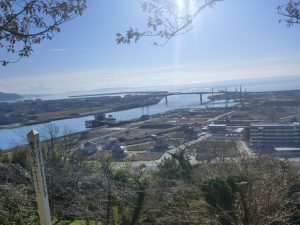 Ishinomaki
In the Oku no Hosomichi travel narrative, Basho writes of taking a small path "only used by hunters and woodcutters" in his search to find the famed "Pine of Aneha" and other sites mentioned in the old poems, but after becoming lost, he finds himself in the port of Ishinomaki. However, Sora's diary indicates that they in fact never became lost, so it can be concluded that this was a fictional embellishment on Basho's part.
It is possible that Basho was remembering the prose work Peach Blossom Spring written by the Chinese poet Tao Yuanming (365-427). This story concerns a fisherman who loses his way and wanders into an earthly paradise, and the bustling port of Ishinomaki, with hundreds of ships gathered in its bay, may have appeared to Basho as an "earthly paradise" of sorts.
From the Hiyoriyama hilltop, Basho and Sora enjoyed a panoramic view of Ishinomaki. In the Oku no Hosomichi narrative, Basho writes that he was able to see Kinkasan (an island which lies to the southeast of Ishinomaki's Oshika Peninsula) from here, but Kinkasan is in fact not visible from this point. However, during his journey from Sendai to Matsushima and then Ishinomaki, there are several points which should have afforded him a distant view of Kinkasan, so it is quite likely that Basho did indeed see this island. It is believed that Basho may have transferred his recollection of Kinkasan Island to the Ishinomaki portion of his narrative.
記事カテゴリ