奥の細道
松尾芭蕉
Matsushima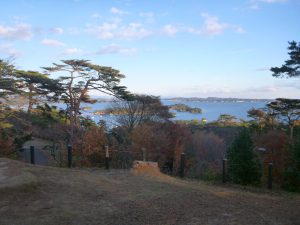 Matsushima
After boarding a boat that took him from Shiogama to the Matsushima islands, Basho alighted on the beach of Oshima Island. In his travel narrative, Basho writes that the scenery of Matsushima is as impressive as that of China's Dongting Lake or West Lake. Although Matsushima is in fact located in the ocean, Basho likens the view to the traditional image of a Chinese lake.
While it is known that Basho composed the haiku shimajima ya / chiji ni kudakete / natsu no umi (all those islands! / broken into thousands of pieces / the summer sea*) in Matsushima, this poem is not included in the Oku no Hosomichi travel narrative. The portion of the narrative describing his visit to the Barrier of Shirakawa also fails to include the haiku that Basho wrote there: sanae ni mo / waga iro kuroki / hikazukana (rice seedling season / yet suntanned am I / from many days of travel). The Barrier of Shirakawa and Matsushima were two of Basho's most important destinations during his Oku no Hosomichi journey, so the question of why he did not publish the poems he composed there is one that has intrigued many. There are many speculations as to why he chose not to do so, but one leading theory posits that by intentionally electing not to publish any haiku from the Barrier of Shirakawa or Matsushima, Basho was demonstrating the profound depths of his admiration for these sites.
Additionally, while it is widely assumed that Basho composed the poem matsushima ya / aa, matsushima ya / matsushima ya (Matsushima / Ah, Matsushima! / Matsushima!), this poem does in fact have a different author.
In Matsushima, Basho also visited the Zuiganji Temple, the family temple of the Date clan. Although Zuiganji was a Rinzai Zen Buddhist temple at the time of Basho's visit, it was originally established as a Tendai sect temple. It was said to have been founded by the priest Ennin (often called by his posthumous name Jikaku Daishi), who also established Risshakuji Temple in Yamadera.
*translation: Makoto Ueda
記事カテゴリ