松尾芭蕉
山寺
Letter from Basho to Kyorai and Other Collected Writings Matsuo Basho et al.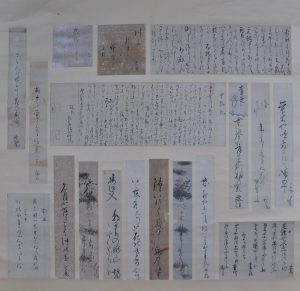 Letter from Basho to Kyorai and Other Collected Writings
Matsuo Basho et al.
This hanging scroll, which features a collection of writings by Basho and his disciples and teachers, is a testament to the creator who had the foresight to gather this wealth of materials.
In the upper right-hand corner is a letter from Basho to his disciple Mukai Kyorai. A friend of Basho's wished to become a pupil of Kyorai's elder brother, a Confucian physician, and the letter requested that Kyorai act as an intermediary in this matter. To the left of this are shikishi (square poetry cards used for writing waka or haiku poems) by Basho's disciples Kikaku and Rotsu. Pasted in the center is the Koujiki, a travel narrative written by Morikawa Kyoriku, which describes Kyoriku's sentiments when he departs Edo for Koshu (present-day Yamanashi Prefecture). To the right of this are tanzaku cards with poems by Kyorai, Sanpu and Rosen, and under the Koujiki are writings by Yaba and other disciples of Basho's.
In the upper left-hand corner are tanzaku cards with poems by the leaders of the two schools of haiku poetry that Basho belonged to before establishing his own "Basho style" of haiku. Endamaru was written by Matsunaga Teitoku of the Teimon school, and Baio was written by Nishiyama Soin of the Danrin school of haikai poetry. Under these tanzaku cards is a kirigami (paper scrap) with two haiku poems authored by Naito Yoshihide, who used the haiku name Rosen. Yoshihide was the second son of Naito Yoshiyasu, daimyo of the Iwakitaira Domain (present-day Iwaki city, Fukushima prefecture), and a close friend of Basho's.
記事カテゴリ